The MTV franchise's star Gary Shirley ex to problematic Amber Portwood revealed that his mother, Carol Zizak is "very sick" with the coronavirus.
Gary and ex Amber Portwood share an 11-year-old daughter, Leah. He also has a four-year-old daughter, Emilee, with wife Kristina.
Gary took to Instagram sharing the news of his mum battling the coronavirus and how hard it's been on the family in addition to the emotional toll it has taken on them being physically apart since February.
'This Mother's Day is a little hard because my mother is very sick,' said Shirley. "A week ago she was diagnosed with Covid-19. Her line of work put her at a higher risk since she was working in activities and housekeeping at an assisted living facility".............
He continues on in-depth about how they are coping and how they were concerned about Gary's mom exposure due to her "worrisome" job...... he also shares with concern;
"Our youngest daughter has an immunodeficiency disorder where she gets sick so easily so we have stayed home and took this quarantine very seriously". he finished by saying;
"All prayers are welcomed and much appreciated."
He added that his mom's partner Jody is also showing symptoms of the virus but has yet to take a test, this is no surprise for Gary as he did express that its a matter of time before he would get it, saying;
"Her and Jody live together and I knew it would only be a matter of time before he would get it, and of course... I believe he has it now"
The Teen Mom Star Gary says what he can do is celebrate Mother's Day the best he can, he most recently shared a thoughtful post on Instagram.
"Made the "mommas" Brunch, this includes my @kristina_shirley3. The food turned out great even in the rain. We did a porch drop off to my mom & Jody They can't eat much, so we put a little of everything on there so she could pick and choose what she wanted off her plate. She can't taste much of anything so hopefully she can't taste this"
Gary has since been receiving a lot of support from his followers, one commented back to him,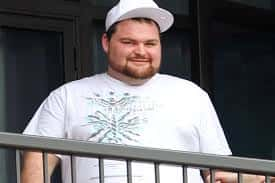 "Oh my goodness so sorry to hear this. You guys are amazing people-such good examples to the rest of the world. Praying for your whole family to stay healthy and make a full recovery. Your parents are lucky to have you guys."
We wish your mum Carol and parenter Jody as speedy recovery, we hope the rest of you stay well. Keep safe you guys!