"Teen Mom 2" star Chelsea Houska who currently is the face of weight loss plan Profile Sanford gets a massive thumbs-up for her amazing post-baby body, not only did she lose all her baby weight but she lost an additional 10lb.
The 28-year-old Chelsea showed off her smoking hot body, cowgirl style as the South Dakota born mom to three, Aubree, Watson, and Layne showcased her to die for post-baby body in a black pair of Daisy Dukes – "I was like, damn" Chelsea captioned in her Instagram post. Wearing a Pink Floyd tee and cowboy booties, rocking the look.
Chelsea also showed off her "perfect" (commented by followers) body in TM2 reunion pictures on Instagram.
Fans are starting to worry that Chelsea is battling an eating disorder, despite her labelling it as " strict eating habits" On a recent Instagram update she posted. "It was not easy But I'm 10lbs less than I was before I got pregnant, so it's been worth it.........."
In an attempt to regain her toned body after giving birth, Chelsea Houska started a daily routine consisting of running and sticking to a low carb diet. Her eating habits are a bit extreme and the Chelsea Houska diets and recommendations are not ideal. Fans also questioning how she can lose all that weight without hitting the gym since she was as pregnant.
Recently, Chelsea posted on her social media to show her followers a series of selfies. At that point, the girl decided to share all her secrets about her eating habits and her weight loss methods by posting on Instagram;
"I'm happiest when I'm healthiest, that's why I'm SO excited to continue my Profile journey There have been so many new products at @Profile_sanford it's hard to keep up!......."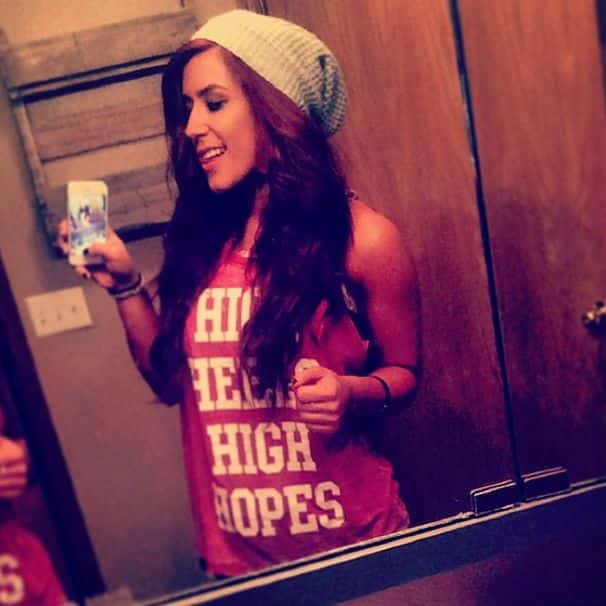 The photo that raised concern was the one she posted on Instagram drowning in baggy sweats commenting "can I get an Amen", "She's not eating or what??" one fan wrote, with another saying: "Why is she so skinny😳."
Another recent post the Teen Mom shared on Instagram churned fans by sharing two photos captioning "Turkey BLT minus the lettuce wrap T". In the first one, the wrapper appeared, while in the other she appeared, stirring a plate that she titled: "And for the rest of the family."
Some fans on Reddit have commented by saying "It doesnt seem as though she is enjoying it", another comment stating, "Why dont you just cook a healthy meal for the entire family including yourself! Another user commented saying I hate to see things like this: / "
So what do you think? Does Chelsea Houska have an eating disorder, well this is what fans are thinking, we surely hope not.